YOUR PARTNER
IN EXCELLENCE
Over the past decades, Les Ateliers Mobiles JPD (1987) Inc. developed a distinctive business model focused exclusively on mobile machining. Renowned for the outstanding quality of its services, JPD is a reference in the machining industry, and is recognized as such by a faithful clientele and other stakeholders in various fields of activity.
Usinage JPD is known for its ability to resolve sensitive and urgent issues through effective communication and an impressive rapid response capability. Our dedicated and experienced team is always mindful of health and safety issues, while ensuring work of the finest quality, all in the respect of our loyal clientele's specific worksite and environment.
Whatever your needs may be: surface machining of a mechanical component of an industrial building, a crane articulation joint, or a driveshaft range, our company has been specializing in this type of on-site machining for nearly 40 years.
Usinage JPD is renowned for its ability to resolve delicate situations and problems requiring a rapid intervention. Its clientele benefits from the best expertise available, provided by a team mindful of health and safety issues, the quality of their work and the work environment of its clientele.
Usinage JPD distinguishes itself from conventional machining firms by its capacity to carry out machining work directly at the client's facilities or any other worksite (construction site, shipyard, etc.).
Compared to conventional machining, on-site machining saves time and money by eliminating the substantial and costly work sequences involved in equipment breakdown and reinstallation and time devoted to transporting parts to and from the machine shop. Non-productive downtime for equipment or production machinery is therefore minimized. On-site machining is efficient and cost effective. That's the JPD Advantage!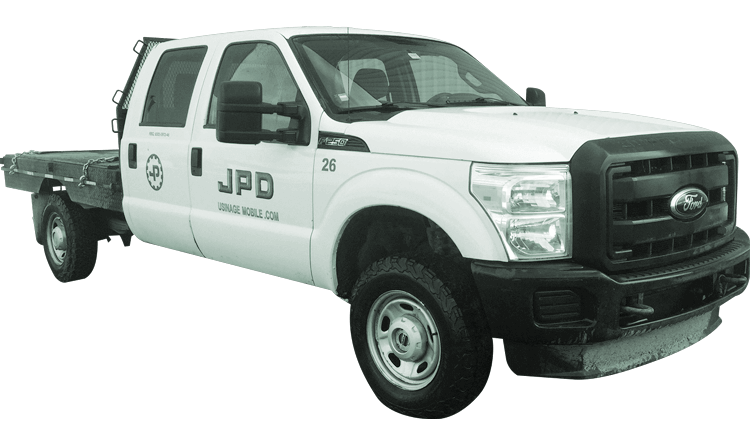 Services
Nearly 40 years of experience and dedication in the field of mobile, on-site and field machining
Proven working methods, processes and equipment
We design and manufacture our own portable and mobile machine tools, using CAO 3D Solidworks software
Modifiable machine tools adapted to each client's specific requirements
Ongoing development and improvement programme for our portable machine tools inventory
Fast and high-quality service and high level of dedication towards our clientele
Capacity
Full inventory of high-performance portable machine tools, easy to handle in confined or hard to access spaces (lathes, boring machines, milling machines, sandblasters)
Our fleet of service trucks covers and serves the Eastern Ontario region, the Province of Québec and the Maritimes
Brand new 15,000 sq. ft. service centre:

40 tons lifting capacity;
90,000 sq. ft. secure exterior storage facilities;
Conventional machine tool shop.
Assets
Renowned company;
JPD is a qualified subcontractor and a registered member of various integrated subcontractors management systems (Browz, Cognibox, Pic's) used by buyers and contractors;
Diversified clientele : private sector, governmental and municipal;
Experienced team of multidisciplinary employees dedicated to the quality of their work;
Continuously trained employees.